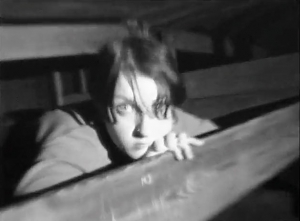 When sixteen year-old Irena goes on a family vacation to Poland, she didn't think it would be so heavy. Sure, her grandmother Tonia, a Holocaust survivor, is telling all about her experience, but her father and uncle are also making a movie.
Welcome to "Our Holocaust Vacation," three generations on a roller coaster ride into history and family dynamics — produced, shot and edited by Nicholas and Doniphan Blair.
"One of the best Holocaust films I have seen," according to Holocaust film scholar Elaina Viola, "Our Holocaust Vacation" was shown over 500 times on PBS stations across America from 2008-12. Now the filmmakers have remastered it, added a curriculum guide, the "Be Happy" poster, the Juman Project, and the recent book of stories by Tonia, called "Love at the End of the World".
"Our Holocaust Vacation" follows two teenage women descending into hell: Tonia during the war and Irena on the trip to learn about it — including going at night into Auschwitz with her dad and uncle to shoot shots. Indeed, the filmmakers break a number of regular-storytelling barriers to make the movie, including staging public performance pieces, from walking with Jewish stars in a German town to giving away bread on a town square in the Czech Republic.
"The film challenges genre conceptions and it challenges the audience," explains Viola. Indeed, some moments in our "Our Holocaust Vacation" were so challenging, the film was not accepted by any major Jewish film festivals. Notably problematic is when Tonia flirts with a German officer in a work camp, which became the emotional climax of the film.
All of Tonia's teenage years was spent under the Nazis and, like all teens, she rebelled. Instead succumbing to hate, fear and survival of the fittest, she explored relationships, fell in love and learned about romance, literally in the middle of hell, in the cattle car carrying her to Auschwitz.
"Little acts of kindness kept us alive," says Tonia, who provided that kindness, as a nurse in a besieged ghetto hospital, and received it: getting gifts of food or assistance from young men, good Samaritans, unknown neighbors.
No, Irena does not want to put on a Jewish star and march with her family through a German town. Yes, it seems abusive for her father wants her to do so or to take her into Auschwitz at night. But she comes to her own understanding as does her grandmother. Tonia telling her stories of love, healing and resistance to brute force and horror, right on the historical spots where they happened, proves cathartic.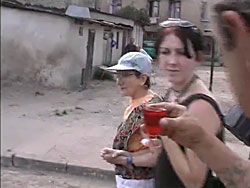 "The film was very moving, full of tears, some humor and above all, the love of a family which has the guts to go for a deep emotional experience," noted Ester Widman, of the National Association of Jewish Child Holocaust Survivors.
"Our Holocaust Vacation" provides a template for how one woman retained her loving spirit, how family healed and how humans can comprehend such history.
Indeed, because of Irena, the teen character, the film is an good introduction to the subject for young people and has received high ratings from educators. The innovation of the "Our Holocaust Vacation" is continued in the "Our Holocaust Vacation Curriculum Guide" [$289], the "Be Happy, Be Happy" poster [$29 Poster, or $289 signed seriograph] or in the new book "Love at the End of the World".
"Our Holocaust Vacation" is also available is a:
Our Holocaust Vacation DVD: 84 and 58 minute versions

Our Holocaust Vacation Curriculum Guide

Be Happy, Be Happy: Poster and Fine Art Signed Seriograph

The Juman Project: Mysticism, Religion, Science, Politics and Music in the Post-Holocaust Era